Proxima's Unprecedented Passage: When Stars Align
By Ken Croswell
Published on Scientific American (January 23, 2014)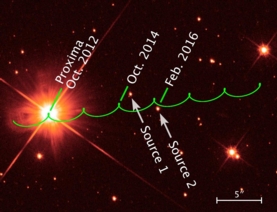 Credit: Hubble Space Telescope. Kailash Sahu et al. (2014) and NASA.
Of the hundreds of billions of stars that throng the Milky Way, only one is closest to the Sun: a little red dwarf named Proxima Centauri, a star so dim it was unknown a century ago. Now this stellar neighbor is about to betray some of its secrets, because in October it will pass in front of another star. As the light from the distant star skirts past Proxima, the red star's gravity will bend the beam, divulging our neighbor's mass and perhaps even its planets.
Read more at Scientific American.
Ken Croswell earned his Ph.D. in astronomy from Harvard University and is the author of The Alchemy of the Heavens and The Lives of Stars.
"An engaging account of the continuing discovery of our Galaxy...wonderful." --Owen Gingerich, The New York Times Book Review. See all reviews of The Alchemy of the Heavens here.
"A stellar picture of what we know or guess about those distant lights."--Kirkus. See all reviews of The Lives of Stars here.