THE LIVES OF STARS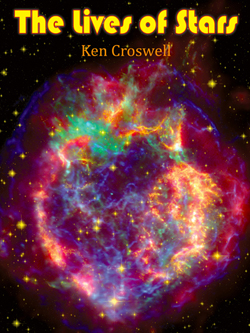 THE LIVES OF STARS
"Ken Croswell's THE LIVES OF STARS is a wonderful astronomy book for young people--for anyone, for that matter. Well written, beautifully illustrated, it takes sophisticated modern concepts and makes them clearly accessible. I wish I could have had a book like this one when I was young." --Dr. James Kaler, University of Illinois at Urbana-Champaign
The stars that speckle the sky have long fascinated humanity, but only in the past century have astronomers figured out how stars are born, live, and die. Now we can use this knowledge to address the question: Which stars near the Sun might have planets with intelligent life? Drawing on both the laws of stellar evolution and the latest discoveries of extrasolar planets, including one planet around Alpha Centauri and up to five around Tau Ceti, Harvard-trained astronomer Dr. Ken Croswell describes the lives of stars and the alien worlds they may support.
Dr. Ken Croswell earned his Ph.D. in astronomy at Harvard University and is the author of eight astronomy books, including Planet Quest, Ten Worlds, and The Lives of Stars.
See this review of Ken Croswell's talk.