Tides Turn "Habitable" Planets Into Hellish Hothouses
By Ken Croswell
Published in New Scientist (April 7, 2012, page 17)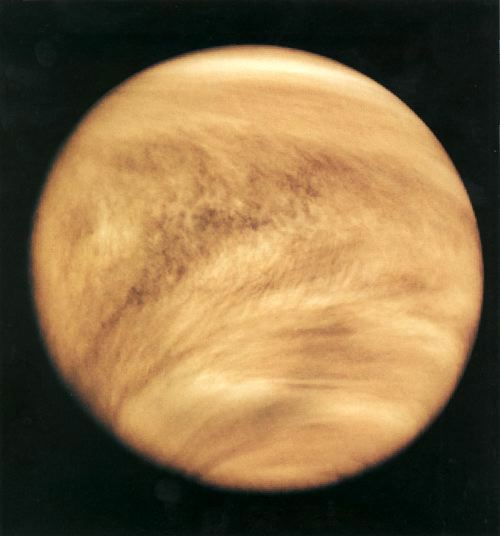 Credit: Pioneer Venus. NASA.
Tides evoke the sea, but they may dry out what would otherwise be habitable planets around small stars, making them hostile to life.
Rory Barnes of the University of Washington in Seattle and his colleagues calculated what would happen to Earthlike planets orbiting the most common type of star in the Galaxy: red dwarfs.
These stars are much cooler and fainter than the Sun, meaning the habitable zones around them--in which planets can have liquid water on their surface--are much closer in. Any planets orbiting in those zones feel very strong gravitational tugs from the star.
Unless such a planet travels on a perfectly circular orbit, the strength of the star's pull varies at different points along its path. This squeezes and stretches the planet, heating it up.
Stars with a mass less than a third of that of our Sun have habitable zones so close in that this tidal heating would evaporate any planet's water, as the researchers will report in Astrobiology.
Light from the planet's star would then split the water vapor into hydrogen, which would escape into space, and oxygen, which could go on to form the greenhouse gas carbon dioxide. Planets blanketed in carbon dioxide would heat up further, developing into uninhabitable hothouses like Venus (shown above), the team concludes.
Ken Croswell earned his Ph.D. in astronomy from Harvard University and is the author of The Alchemy of the Heavens and The Lives of Stars.
"An engaging account of the continuing discovery of our Galaxy...wonderful." --Owen Gingerich, The New York Times Book Review. See all reviews of The Alchemy of the Heavens here.
"A stellar picture of what we know or guess about those distant lights."--Kirkus. See all reviews of The Lives of Stars here.