Captain Kirk Is Defeated at Pluto
By Ken Croswell
Published on ScienceNOW (July 2, 2013)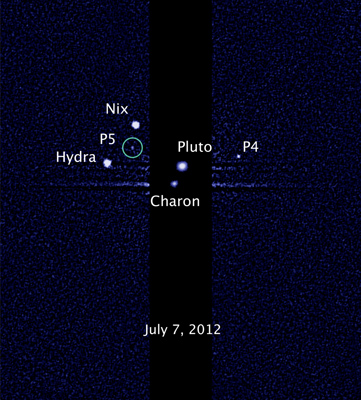 Credit: Hubble Space Telescope. NASA, ESA, and Mark Showalter (SETI Institute).
A few months ago, when William Shatner, the actor who played Star Trek's Captain Kirk, heard that scientists were asking people to vote on names for Pluto's fourth and fifth moons, he lobbied that one satellite be called Vulcan, the home planet of Mr. Spock—and the name came out on top, far surpassing all others in the voting. Today, however, scientists announced that the moons will instead bear names that better reflect Pluto's role in mythology as the god of the underworld. One satellite will be christened Kerberos, for Pluto's three-headed dog, and the other Styx, for the goddess representing the river dividing the world of the living from the underworld. Kerberos is the Greek name for Cerberus, which placed number two in the voting, while Styx came in third. Why not Vulcan? Astronomers once used that name for what turned out to be a nonexistent planet inside Mercury's orbit, and its connection to the mythological Pluto was tenuous; so rejecting the name was—as Mr. Spock might say—the logical thing to do.
Ken Croswell earned his Ph.D. in astronomy from Harvard University and is the author of The Lives of Stars.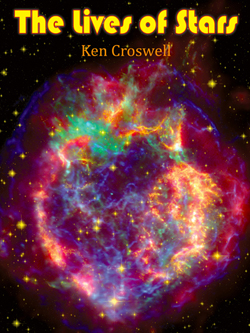 "A stellar picture of what we know or guess about those distant lights."--Kirkus. See all reviews of The Lives of Starshere.