Pluto's Revenge: Hubble Finds a Fifth Moon
By Ken Croswell
Published in Earth (November 2012, page 15)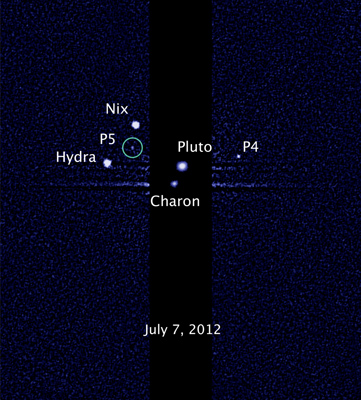 Credit: Hubble Space Telescope. NASA, ESA, and Mark Showalter (SETI Institute).
Pluto has struck back. Six years after a few hundred astronomers voted to revoke Pluto's planethood, some of the scientists who opposed that decision have used the Hubble Space Telescope to spot a new moon around Pluto, boosting its planetary credentials.
Discovered on July 7, 2012, by planetary scientist Mark Showalter of the SETI Institute in Mountain View, California, the new moon is the fifth and smallest yet seen orbiting Pluto. Its diameter is between 10 and 25 kilometers—as small as the moons of Mars. Pluto's satellites likely arose after an object hit Pluto and kicked up debris.
Remarkably, all five of Pluto's moons are in resonance. The new moon revolves once around Pluto in about the same time that the closest and largest one, Charon, completes three orbits, a 3:1 resonance. The other moons have 4:1, 5:1, and 6:1 resonances with Charon.
Pluto is no stranger to such arrangements. In fact, it has survived for billions of years because of one. Pluto sometimes dodges inside Neptune's orbit, coming closer to the Sun than does its giant neighbor, but the two worlds never collide. Pluto revolves twice around the Sun in the same time that Neptune makes three orbits, and whenever they're the same distance from the Sun, they've always far from each other.
The discovery of Pluto's fifth moon has revived calls for Pluto to be deemed a planet. However, critics counter that moons don't make a planet: Mercury and Venus have none, whereas some asteroids do. Whatever you call Pluto, the far-off world has nearly twice as many moons as Mercury, Venus, Earth, and Mars combined. The only planets with a greater number are the giants: Jupiter, Saturn, Uranus, and Neptune.
Still more moons may await discovery. Hubble will keep looking, and in 2015 NASA's New Horizons spacecraft will sail past Pluto, scouting for additional satellites.
Ken Croswell earned his Ph.D. in astronomy from Harvard University and is the author of The Lives of Stars.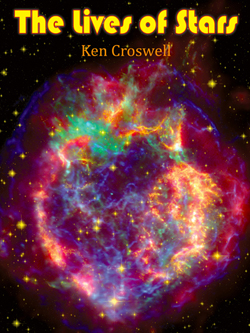 "A stellar picture of what we know or guess about those distant lights."--Kirkus. See all reviews of The Lives of Starshere.