Air Apparent: Pluto's Eternal Atmosphere
By Ken Croswell
Published on Scientific American (September 30, 2013)


Credit: Hubble Space Telescope. R. Albrecht (ESA/ESA Space Telescope European Coordinating Facility), and NASA.
Although billions of kilometers from the Sun, frigid Pluto has an Earthly air: an atmosphere made mostly of nitrogen, the same gas that constitutes 78 percent of the air we breathe. But Pluto pursues such an elliptical orbit around the Sun that all of that gas might freeze onto its surface when farthest and coldest. On May 4, however, Pluto passed in front of a star in the constellation Sagittarius, allowing observers to watch the atmosphere block some of the star's light and deduce that the air is so substantial it never disappears.
Read more at Scientific American.
Ken Croswell is an astronomer and the author of Ten Worlds.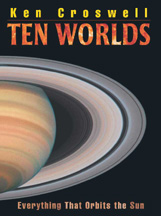 "On the basis of its striking design and photographs, this handsome, large-format volume is well worthy of praise. And astronomer Croswell's concise yet conversational, information-packed text wins it sky-high accolades in the narrative sphere as well."--Publishers Weekly, starred review. See all reviews of Ten Worlds here.