A Tail of Two Galaxies
By Ken Croswell
Published on Nature (May 21, 2013)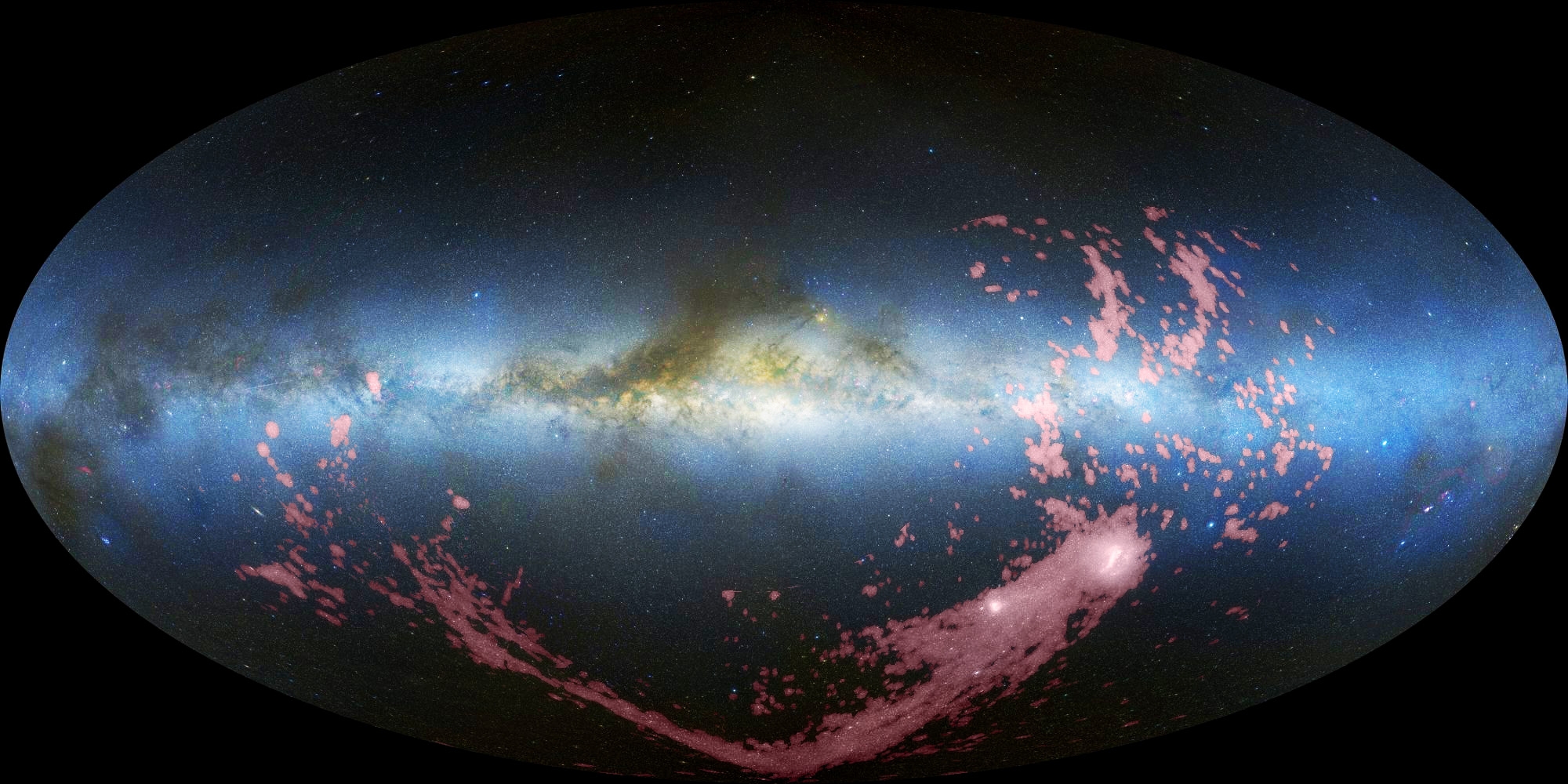 Credit: David Nidever et al. NRAO/AUI/NSF and Mellinger, Leiden-Argentine-Bonn Survey, Parkes Observatory, Westerbork Observatory, Arecibo Observatory.
An enormous ribbon of gas that threads through the thinner gas of the Milky Way's halo is the result of a gravitational tug-of-war between the two Magellanic Clouds, the brightest satellite galaxies orbiting our own.
The Magellanic Sream, as the ribbon is known, stretches for hundreds of thousands of light-years behind the Magellanic Clouds; a smaller additional component pokes out ahead of them. The Stream was discovered in the 1970s, and recent theoretical models suggest that it is caused by the gravitational pull of the Large Magellanic Cloud tearing gas out of its lesser sibling, the Small Magellanic Cloud, as they orbit each other. This stripping, the result of tidal forces, would have begun some 2 billion years ago, and together with an interaction with the Milky Way's halo it would have spread the gas into its current shape.
Read more at Nature.
Ken Croswell earned his Ph.D. in astronomy from Harvard University and is the author of The Alchemy of the Heavens and The Lives of Stars.
"An engaging account of the continuing discovery of our Galaxy...wonderful." --Owen Gingerich, The New York Times Book Review. See all reviews of The Alchemy of the Heavens here.
"A stellar picture of what we know or guess about those distant lights."--Kirkus. See all reviews of The Lives of Stars here.