Why Jupiter's Big Moons Outnumber Saturn's
By Ken Croswell
Published in Astronomy Now (June 2010, page 17)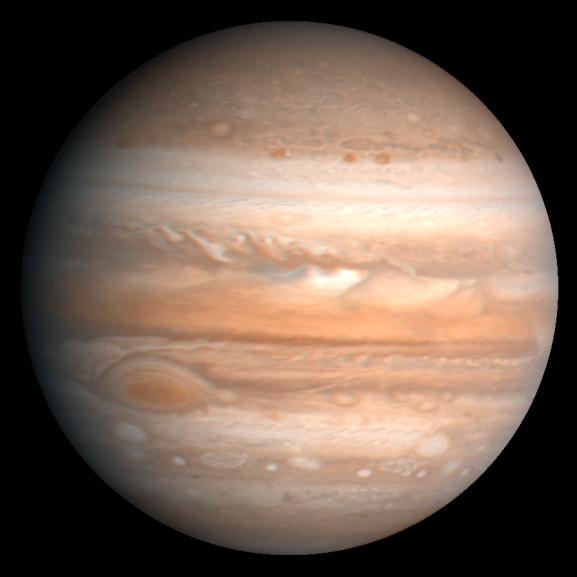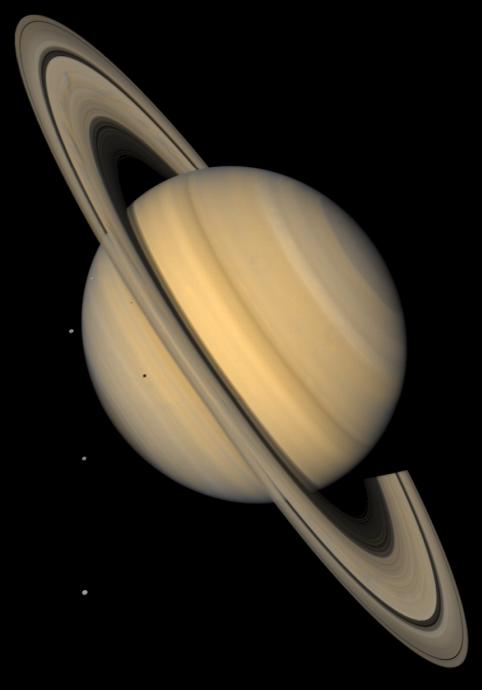 Images by Voyager 2. NASA/JPL/U.S. Geological Survey.
Jupiter has more big moons than Saturn because the larger planet's gravity carved a gap in the disk of gas and dust orbiting the young Sun, say Japanese and American astronomers.
Takanori Sasaki and Shigeru Ida at the Tokyo Institute of Technology and Glen Stewart at the University of Colorado in Boulder simulated the birth of Jovian and Saturnian satellites. The researchers assumed that moons formed continuously in a disk of gas and dust around each young planet. As moons arose, interaction with the satellite-forming disk caused the moons to migrate toward their planet until they crashed into it. However, the much larger solar nebula replenished the satellite-forming disks with material, so they kept making new moons.
Because Jupiter is so massive, say the scientists, it cut a clearing in its path around the Sun. This abruptly halted the replenishment of material from the solar nebula. Thus, the gas and dust in the Jovian satellite-creating disk vanished quickly, and satellite migration stopped while Jupiter still possessed several large moons.
In contrast, Saturn failed to open up a gap in its orbit. Instead, the gas and dust in its satellite-forming disk dwindled slowly as the solar nebula that replenished it slowly dissipated. By the time the replenishment ended, Saturn's satellite-creating disk had little mass and only one large moon left.
As Sasaki and his colleagues reported in the May 10, 2010, issue of The Astrophysical Journal, their computer simulations of Jupiter show that the gas giant usually wound up with four or five big moons, corresponding to Io, Europa, Ganymede, and Callisto.
"On the other hand," says Sasaki, "the Saturnian systems tended to end up with one dominant body in the outer regions." That matches Saturn's one big moon, Titan.
Ken Croswell is an astronomer and the author of Magnificent Universe and Ten Worlds.
"Magnificent Universe by Ken Croswell is elegant and eloquent."--Washington Post. See all reviews of Magnificent Universe here.
"On the basis of its striking design and photographs, this handsome, large-format volume is well worthy of praise. And astronomer Croswell's concise yet conversational, information-packed text wins it sky-high accolades in the narrative sphere as well."--Publishers Weekly, starred review. See all reviews of Ten Worlds here.