Huge Stellar Nursery Found in Outer Galaxy
By Ken Croswell
Published in New Scientist (June 20, 2009)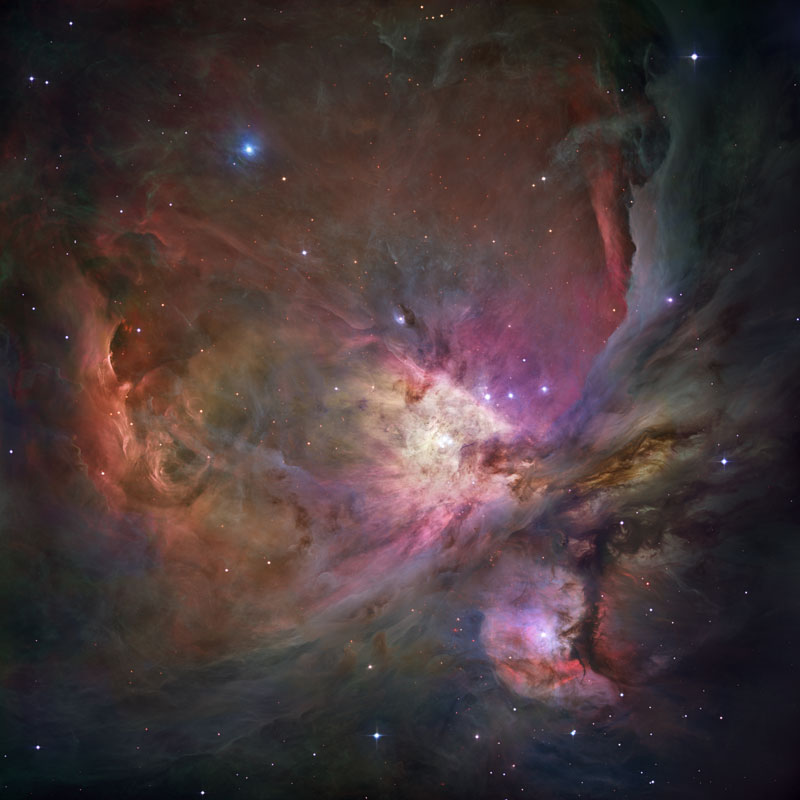 Image of the Orion Nebula by the Hubble Space Telescope [NASA, ESA, Massimo Robberto (Space Telescope Science Institute/ESA), and the Hubble Space Telescope Orion Treasury Project Team.]
A vast stellar nursery 14,000 light-years away in the constellation Cygnus has been hiding behind a thick cloud of dust. It is one of the biggest in our Galaxy and may offer insight into how these objects can grow so large.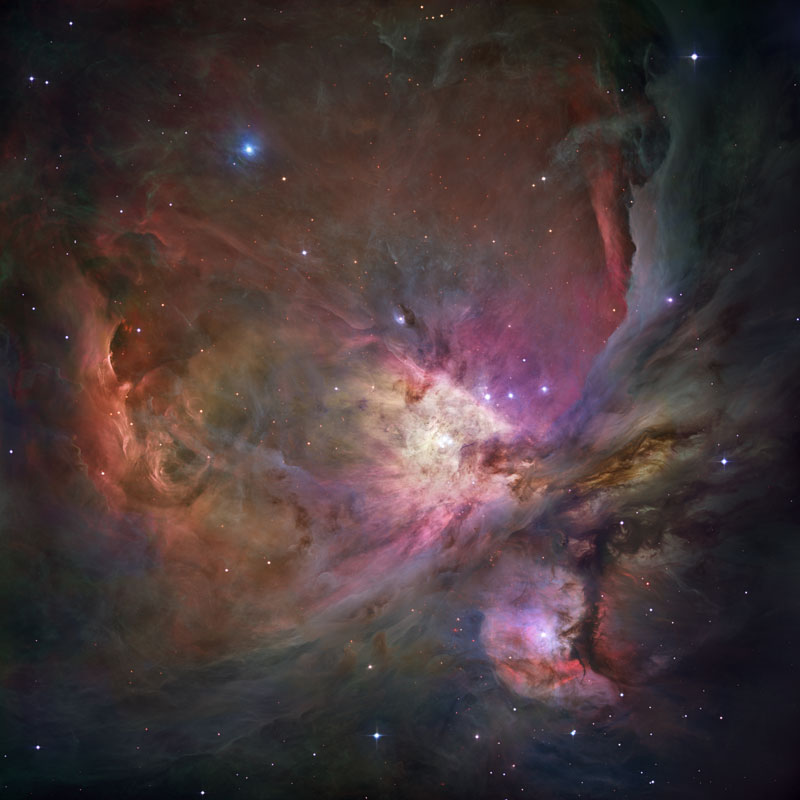 The stellar nursery, called CTB 102, is home to perhaps thousands of newborn stars. Measuring 380 light-years across, the nursery is a so-called H II region, where the hottest and most massive stars have stripped hydrogen gas of its electrons. The most famous of these regions is the Orion Nebula (pictured), but CTB 102 is over ten times its size.
CTB 102 has eluded recognition because it is in the Perseus arm, the spiral arm of the Milky Way next out from ours, where dust blocks visible light. Its size and distance from Earth were unveiled by mapping radio waves emitted by its hydrogen gas.
The nursery likely grew so large because winds from its hottest stars caused the gas and dust that hatched them to spread outwards. "Massive stars are principal sculptors of gas and dust," says team member Charles Kerton of Iowa State University in Ames.
Ken Croswell is an astronomer and the author of Magnificent Universe and Ten Worlds.
"Magnificent Universe by Ken Croswell is elegant and eloquent."--Washington Post. See all reviews of Magnificent Universe here.
"On the basis of its striking design and photographs, this handsome, large-format volume is well worthy of praise. And astronomer Croswell's concise yet conversational, information-packed text wins it sky-high accolades in the narrative sphere as well."--Publishers Weekly, starred review. See all reviews of Ten Worlds here.