A Galactic Hit and Run
By Ken Croswell
Published on ScienceNOW (June 3, 2011)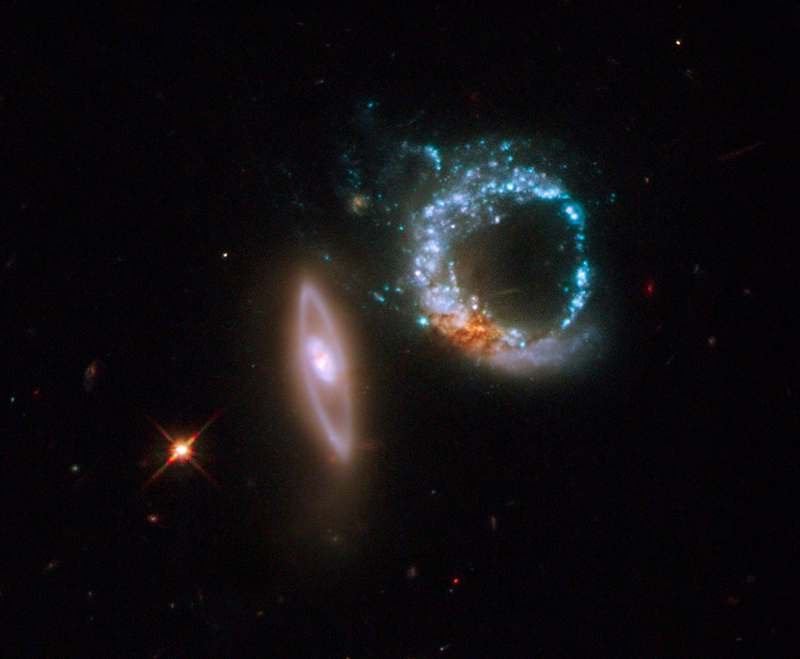 Hubble Space Telescope. NASA/ESA, Mario Livio (STScI).
Bad things can happen to good galaxies. The blue object in this image is a rare ring galaxy, 440 million light-years from Earth in the constellation Cetus. The ring was once a normal giant galaxy like our own, but a smaller galaxy smashed right through its disk. The intruder's gravity first pulled stars and gas toward the victim's center. Then, after the smaller galaxy plunged through the disk and came out the other side, the stars and gas rebounded outward, creating an expanding ring that squeezed gas into new stars, the brightest of which shine hot and blue. The ring now measures 38,000 light-years across, about a third the diameter of the Milky Way's disk of stars. Recently astronomers at the University of Oxford used the 200-inch telescope atop Palomar Mountain in California to measure velocities in the ring. These measurements, to be reported in Monthly Notices of the Royal Astronomical Society, reveal that the intruder galaxy struck at an angle of about 45 degrees from the perpendicular some 50 million years ago. The guilty party isn't hard to find: it's the odd-looking galaxy left of the ring. Together the pair is known as Arp 147.
Ken Croswell is an astronomer and the author of The Lives of Stars.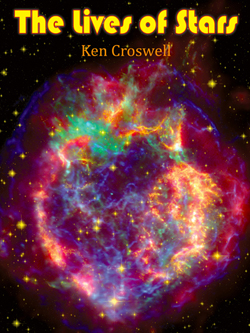 "A stellar picture of what we know or guess about those distant lights."--Kirkus. See all reviews of The Lives of Stars here.