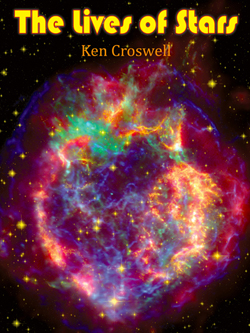 Excerpt from THE LIVES OF STARS
Copyright by Ken Croswell. All rights reserved.
INTRODUCTION
On a dark night, you can see thousands of stars. All these stars belong to our Galaxy, the Milky Way.
Without stars, you could not live. Before the Earth was born, stars made the oxygen you breathe, the calcium in your bones, and the iron in your blood.
And one star--the Sun--shines on the Earth and keeps it warm.
That's right, the Sun is a star. In fact, the Sun is the closest star of all. So the Sun looks bigger and brighter than any other star.
A star is a hot, glowing ball in space. It makes its own visible light. A planet doesn't. Instead, a planet reflects the light of the star it goes around. The Earth is a planet that orbits the Sun.
Our Galaxy has more than 100,000,000,000 stars. That's a lot of stars.
Like snowflakes, however, no two stars are the same.
Some stars shine brightly. If the Sun were one of these stars, the Earth would get so hot its oceans would evaporate.
Some stars shine dimly. If the Sun were one of these stars, noon would be darker than a moonlit night, and Earth's oceans would freeze.
Some stars are dead: black holes that emit no light at all.
Some stars are huge. If the Sun were as big as the biggest star, it would swallow Mercury, Venus, Earth, Mars, and Jupiter--the five planets closest to the Sun.
Some stars are tiny. They are as small as a city on Earth.
Some stars are blue. Some stars are white. Some stars, like the Sun, are yellow. Some stars are orange. And some stars are red.
Some stars are nearly as old as the universe. But some stars are younger than you.
Like people, stars are born, they live, and they die. But stars live much longer than people. Stars live for millions, billions, or trillions of years.
This book shows how stars live and die.
Stars are born in beautiful clouds of gas and dust.
Then the stars shine, lighting and warming the planets that go around them. Some stars may even support life on those planets.
Then the stars die. Some stars explode. Most stars, however, puff off their outer layers.
Either way, a dying star hurls new elements--such as oxygen, calcium, and iron--into space. So when a star dies, it can give off elements that life needs.
From Ken Croswell's The Lives of Stars. Copyright by Ken Croswell. All rights reserved.