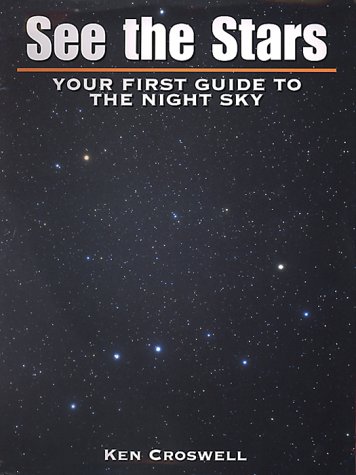 Excerpt from SEE THE STARS
Copyright by Ken Croswell. All rights reserved.
A GALAXY OF STARS
Stars, stars, stars--red, blue, yellow, orange, white. So many stars! Thousands shine tonight, twinkling after sunset. Stars make patterns, called constellations, that look like dippers, kites, teapots, and even people. This book will help you learn the most important constellations and their stars.

A star is a hot ball of gas that gives off light in the darkness of space. You already know one star--the Sun--but you may not think of it that way. The Sun looks different from other stars because it is much closer to us. That's because we live on Earth, a planet that goes around the Sun. If we lived on another planet going around another star, that star would look much like the Sun, and the Sun would be just another star in the night. So when you look at the stars, you may be looking at someone else's sun.

Without stars, life would not exist. The Sun warms the Earth, and its light makes plants grow, giving us food. Plus, before the Sun and Earth were born, other stars created most of the chemical elements--like carbon, oxygen, calcium, and iron--which now make up our world, and our bodies.

Stars live in galaxies. Every star you can see without using binoculars or a telescope belongs to our Galaxy, the Milky Way. Altogether, the Milky Way Galaxy contains more than 100,000,000,000 stars. So the Milky Way has more stars than the Earth has people. And beyond the Milky Way are billions of other galaxies, each with their own stars.

If the sky is clear, you can see the stars tonight--and you don't need a telescope. But where do you begin? There are so many stars up there, and at first they all look the same.

Well, that's the reason for this book. Each month, you can explore a new constellation. You'll see places where new stars are being born, clusters brimming with hundreds of young stars, old stars that are about to die, and even regions containing black holes. Along the way, you'll see two dippers, a lion, a shepherd, a harp, a swan, a scorpion, a queen, and a bull.

Ready? Just turn the page....
JANUARY: ORION THE HUNTER
Winter nights bring the most glorious constellation: Orion the Hunter, who shines over snowy fields and icy streets. Orion abounds with bright stars, including a red one and a blue one. It even has a place where new stars are being born.

Check the table to see when and where to look for Orion tonight. Then look for a pattern of bright stars that matches the pattern in the photograph. A special part of the pattern is made by three stars lined up beside one another. This is Orion's belt. Above and to the left of the belt is an even brighter star, Betelgeuse, which is one of his shoulders; below and to the right of the belt is another bright star, Rigel, one of his legs.

Even though the stars in Orion appear together, they actually are at different distances from us. Betelgeuse is about 430 light-years away, while Rigel is about 800 light-years away. That means the light you see from Betelgeuse started out 430 years ago, but the light from Rigel started out 800 years ago--before Christopher Columbus sailed the Atlantic Ocean.

These stars are different colors. Can you see that Betelgeuse is reddish and Rigel is bluish? If not, stare at Rigel for half a minute and then look at Betelgeuse. Betelgeuse should look fiery red. If you still have trouble seeing the color difference, try looking at the stars through binoculars. Betelgeuse is the only bright star in Orion that is red. The others are blue, like Rigel.

Stars have different colors because they are different temperatures. When metal is heated, it first glows red. As it gets hotter, the metal turns orange, then yellow, then white, then blue-white. The same is true with stars. All stars are hot, but some are hotter than others. Blue stars like Rigel are hotter than red ones like Betelgeuse. The yellow Sun is in between.

After you've checked out Rigel and Betelgeuse, take a look at the three bright stars lined up in the middle of Orion, Orion's belt. All three are hot and blue.

Orion's belt can lead you to stars in other constellations. Draw a line from lower left to upper right through the three stars and continue on for quite a way. You'll come to Aldebaran, an orange star in Taurus (DECEMBER). Draw a line through the belt in the opposite direction and you'll reach Sirius, the brightest star in the night. Sirius is a white star just about 8 1/2 light-years away, much closer than the stars of Orion.

Below Orion's belt is a column of fainter stars that make up his sword. With binoculars, you can see that one of the "stars" in the sword looks fuzzy. That "star" is really a cloud of gas and dust called a nebula. The Orion Nebula is giving birth to new stars.

All stars were born in places like the Orion Nebula. So was the Sun, 4 1/2 billion years ago. Someday, the stars forming in the Orion Nebula may have planets like Earth going around them.
Where and When to Look

| On these dates | Look | Around this time |
| --- | --- | --- |
| December 1 to 15 | Southeast | 10 p.m. |
| December 16 to 31 | Southeast | 9 p.m. |
| January 1 to 15 | Southeast | 8 p.m. |
| January 16 to 31 | South | 9 p.m. |
| February 1 to 14 | South | 8 p.m. |
| February 15 to 28 | South | 7 p.m. |
| March 1 to 15 | Southwest | 8 p.m. |
| March 16 to 31 | Southwest | 7 p.m. |
| April 1 to 15 | West | 9 p.m. |

From Ken Croswell's See the Stars. Copyright by Ken Croswell. All rights reserved.